IBIUNA / SAMAMBAIA
| | |
| --- | --- |
| country | Brazil |
| customer | Siemens AG Germany |
| end customer | FURNAS Centrais Electricas SA |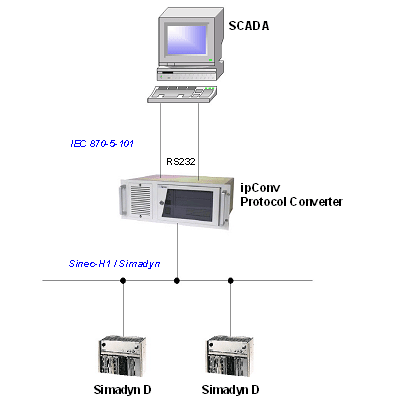 This project involves the coupling of Simadyn D control systems to the IEC 60870-5-101 control station. Our ipConv protocol converter translates the data from the proprietary Simadyn-D protocol, based on Sinec-H1, into IEC 60870-5-101.
Communication to the control station operates on redundant lines. The protocol converter is capable of processing telegrams in control direction, which are sent via one line and simultaneously via both lines.
Telegrams transmitted in monitoring direction are sent to the control stations via both lines.
Used Products
ipConv
Universal protocol converter for highest degree of flexibility
Details...
Used Protocol Stacks
Hardware
IPC194 19" 4U
(no longer available)
The robust and flexible industrial PC. This PC industrial PC can be extended about a passive backplane with a high number of ISA and PCI cards.
Details...