ICESA S7, Spain
| | |
| --- | --- |
| country | Spain |
| customer | ICESA (Innovacion y Control de la Energia S.A.), Spain |
| end customer | RTE (Réseau Transport d'Électricité) |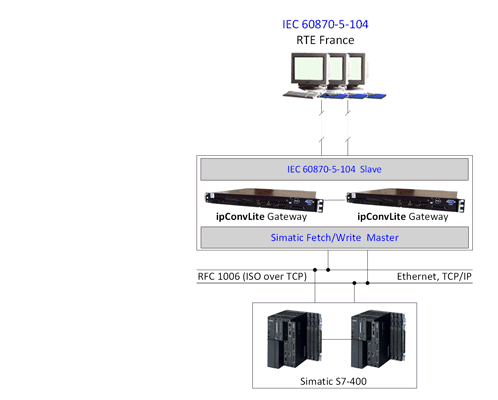 Redundant ipConvLite gateways connect the Simatic S7 automation system to the IEC 60870-5-104 master station. All data areas of the also redundant Simatic S7-400 controllers are accessed via the FETCH/WRITE interface. S7 communicates with the ipConvLite gateway by way of ISO-over-TCP (RFC 1006).
See also Communication with Simatic S7-300/400
In addition to the transmission of particular data points, customer specific diagnostic data are processed and sent.
The redundant coupling of the ipConvLite gateways is realized over a serial RS232 line. The passive device monitors the active one and if the active one fails, the passive one automatically steps in and resumes communication.
Our industrial pc IPC191V3 19" 1U is used as hardware platform.
This IPCOMM solution is part of the project INELFE, France-Spain (INterconnection ELectrical France-España).
See also www.inelfe.eu
Used Products
ipConvLite
inexpensive protocol converter for standardized application
start price 1.800,- €
Details...
Used Protocol Stacks
Hardware
IPC191V3 19" 1U
The robust and flexible industrial PC in ultra flat design. This solution offers a combination of a high degree of flexibility and performance with a relatively low price.
This system is discontinued and no longer available!
Details...