Ballia-Bhiwadi, India
| | |
| --- | --- |
| country | India |
| customer | Siemens AG, Germany |
| end customer | Powergrid Corporation of India Ltd. |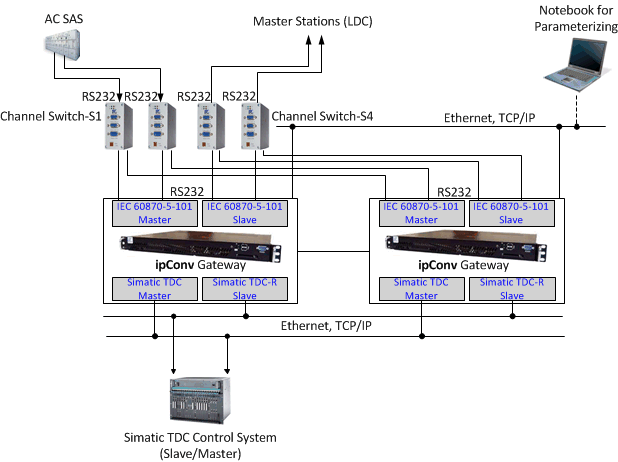 IPCOMM delivered ipConv gateways to link the TDC control systems with the master stations.
The Ballia HVDC converter station as well as the Bhiwadi HVDC converter station are connected to the master station by IEC 60870-5-101 protocol.
The communication between the gateways and the master stations is redundant.
The transmission of messages from external devices (AC SAS - Substation Automation System) via the gateway to the TDCs is realized.
The TDCs are additionally connected to the gateway (with a proprietary protocol).
The gateway time is synchronized over the NTP protocol.
This IPCOMM solution is part of the HVDC system Ballia-Bhiwadi.
Ballia-Bhiwadi, India
In March 2007 Powergrid of India awarded the contract for the largest HVDC system in India to a consortium formed by Siemens and Bharat Heavy Electricals Ltd. (BHEL). The project will transmit power from the Ballia power pool in Uttar Pradesh to the Bhiwadi substation in Rajasthan, only 80 km from Delhi.
The HVDC system will improve the power supply of the fast-growing Delhi metropolitan region without the need for installation additional power plants in this highly urbanized area. The contract includes the engineering, supply, installation and commissioning, as well as all civil works on a turnkey basis.
Siemens is responsible for the design, offshore supply (including the converter transformer for Ballia station), civil works and logistic, whereas BHEL takes care of the onshore portion as well as the converter transformers for the Bhiwadi station.
To meet the increasing power demand, the project has to be completed in 33 months, the shortest delivery time for a long-distance transmission system in India.
(Source: www.energy.siemens.com)
Used Products
ipConv
Universal protocol converter for highest degree of flexibility
Details...
Used Protocol Stacks
Hardware
IPC191V3 19" 1U
The robust and flexible industrial PC in ultra flat design. This solution offers a combination of a high degree of flexibility and performance with a relatively low price.
This system is discontinued and no longer available!
Details...
CS
Channel switch for coupling of two redundant devices to one communication line
Details...