Nordsee One
| | |
| --- | --- |
| country | Germany |
| customer | Schneider Electric GmbH, Germany |
| end customer | RWE Innogy GmbH, Germany |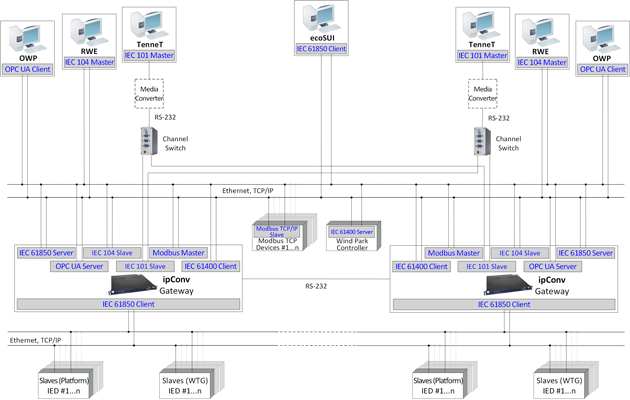 Two redundant ipConv gateways connect the IEDs (Intelligent Electronic Device) to several (redundant) control systems.
The data of the platform's and the wind turbine's protection devices is collected from two networks via protocol IEC 61850 for further processing and routing.
In the direction of ecoSUI server the protection device data is transferred via protocol IEC 61850 i.e., in IED direction the ipConv gateway is configured as client and in uplink direction the ipConv gateway is configured as server.
The gateway communicates with the TenneT control station via IEC 60870-5-101, with the RWE control station via IEC 60870-5-104 and with the offshore wind park control station (OWP) via OPC UA.
Additional auxiliary systems distributed on the platform are read out and controlled per Modbus protocol.
Information of the wind park controller is retrieved per IEC 61400.
SNMP is used for monitoring and evaluation of the network devices.
In SCADA direction only one of the two ipConv gateways is active at any one time. The redundancy module controls which gateway is active. The gateway's status is monitored and a switchover from active to passive mode is initiated if necessary. In downlink direction the protocol stacks IEC 61850, Client of the two gateways are constantly active in order to keep the data up-to-date.
Since RS-232 only allows point to point communication, channel switches CS are used in order to switch the transmission line between the gateways automatically.
Background information
The Nordsee One wind farm consists of one offshore substation platform and 54 wind turbines which will be installed in water depths ranging between 25m and 29m. Nordsee One will be able to provide for the power consumption of approximately 400,000 average households.
(Further information see www.nordseeone.com)
Used Products
ipConv
Universal protocol converter for highest degree of flexibility
Details...
Used Protocol Stacks
Hardware
IPC191I5 19" 1U
Predecessor model of IPC191I7 19" 1U
This system is discontinued. Deliverable only until the 15th of December 2017!
Details...
CS
Channel switch for coupling of two redundant devices to one communication line
Details...